PSHE Virtual Talk Monday 22nd February
11.02.21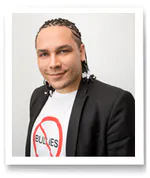 Mon 22nd February PSHE virtual talk by Alex Holmes
From being bullied to being invited to Buckingham Palace to meet the Queen – Bullying, Cyberbullying and E-Safety Expert
Click here to see Alex in action!
29 year old Alex was bullied at school and as a result he has made it his mission in life to make sure this doesn't happen to others as the founder of a national peer support scheme, student 'Anti-Bullying Ambassadors'.
In 2017 he was made a Queen's Young Leader by Her Majesty The Queen representing the commonwealth for his work in tackling bullying and January 2018 was announced as one of Forbes 30 Under 30, an annual encyclopaedia of 'the brightest entrepreneurs, innovators and game-changers under the age of 30 who are transforming business as usual and changing the world.'
Alex runs interactive workshops, speeches and assemblies exploring the issue of bullying by working with young people, teachers, parents and employee staff to help and inspire everyone understand their role in preventing bullying. He also speaks about online abuse, cyber bullying and internet safety, sitting on a number of global safety & advisory boards and councils for the likes of Twitter, Facebook, Google/YouTube, Ask.Fm, regularly visiting their headquarters in America as well as a being a founding member of Prince William's The Royal Foundation Taskforce on the Prevention of Cyberbullying.
Alex has over 7 years' experience working in the education system in various roles from teaching assistant, learning mentor to Head of Year. He believes in the three Ps – Passion, Perseverance and Politeness- the latter being the most important as it has an important message for all young people, not just about bullying, but about looking out for each other.
Alex was named on the Independent on Sunday's Happy List as one of the 100 people who make Britain a happier place to live.